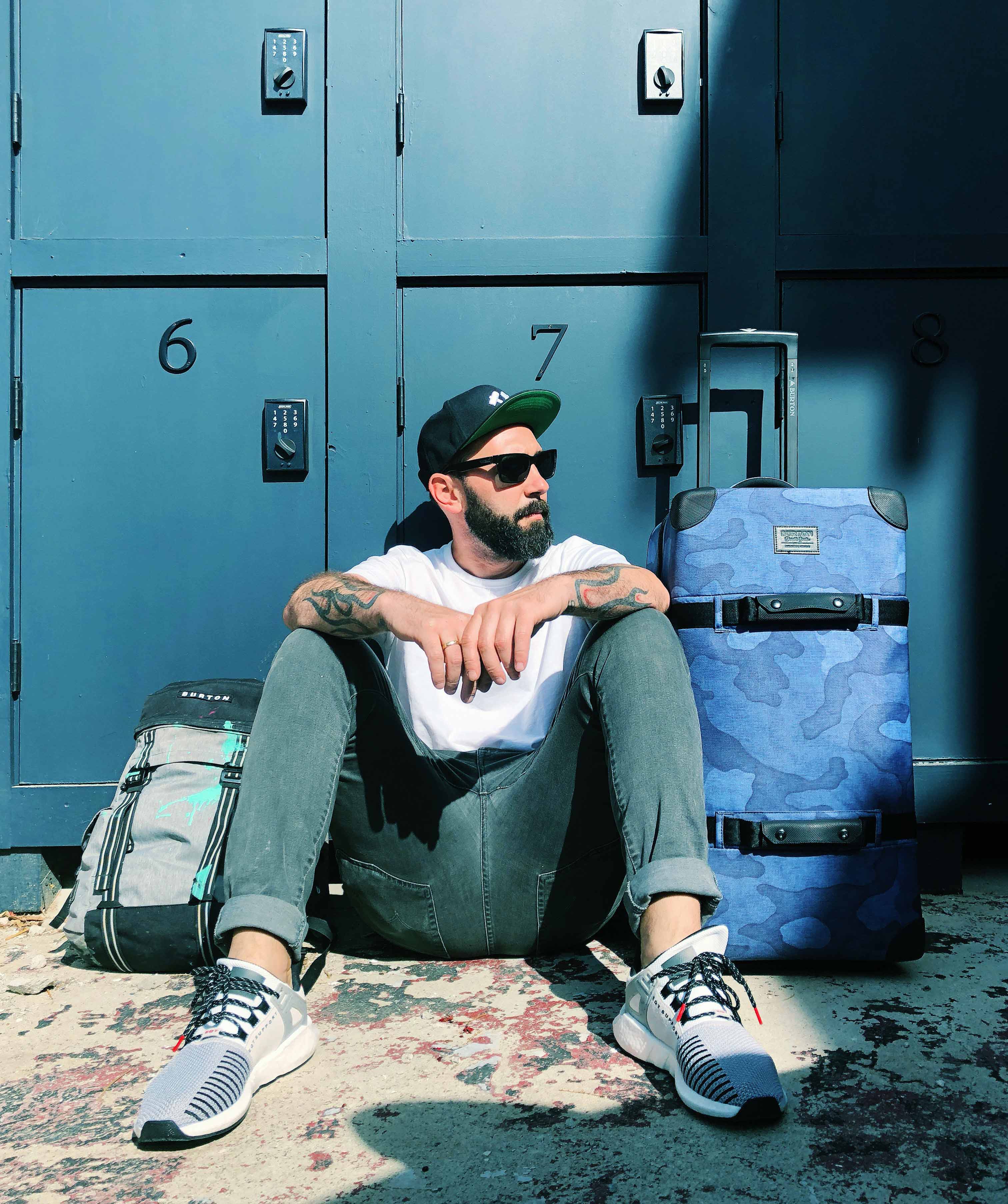 About
Hello, my name is André, but some of you might know me by my artist name Boogie. I'm a studied designer, graffiti artist by heart and illustrator.
Even though being very connected to my roots in the Ore Mountains (East Germany), I decided to study Communication Design in Wiesbaden / Germany when I was 25 and I knew that what I was doing needed to have a more solid foundation. Being «the old one » at university I set myself the goal to finish with an age of 30 – and I did so. Since then I have been working as a self-employed Graphic Designer and Illustrator with Graffiti always having been a big passion of mine. Over the last couple of years it became a part of my every day job.
Since 2007 I have been living in Switzerland with my lady and my French Bulldog Egon. From my homebase close to Basel I love to travel the world, go snowboarding and hiking in the nearby Alps, meet interesting people and get inspired by new influences. In the end it's all about having a good & peaceful time.
If you have further questions, would like to meet for a coffee or work with me, don't hesitate to contact me. Looking forward to meet you.
Boogie
Brand Cooperations:
BMW / Google / Casio / Burton Snowboards / / Ticketmaster / Marvel / H&M Home / Car2Go / Converse / Axe / Toyota / Brooklyn Brewery / Jelmoli Zürich
Group Shows
2019 Cash is King2 /// Saatchi Gallery London (UK)
2018 Millerntor Gallery /// Hamburg (GER)
2018 Just Type /// London (UK)
2017 Artstage Jakarta /// Jakarta (IND)
2016 Homboog & Friends /// Liestal (CH)
2016 Happy Gallery /// Paris (FR)
2016 Millerntor Gallery /// Hamburg (GER)
2015 Fashion meets Art / Jelmoli House of Brands /// Zürich (CH)
2015 FiftyFifty /// Geneva (CH)
2013 ConsSpace /// Berlin (GER)
2010/2011 Hallenkunst /// Chemnitz (GER)
Solo Shows
2017 Kolly Gallery /// Zurich (CH)
2014/15/16/17/18 Boys from the Wood /// Chemnitz (GER)
2013 La Grille Gallery /// Yverdon (CH)
2013 Farbklex /// Liestal (CH)
2013 Riders Palace /// Laax (CH)
2012 Endress & Hauser /// Maulburg (GER)
Festivals/Events
2018 Lima Mural Project /// Lima ( PER)
2017 Colorado Crush /// Denver (USA)
2017 ComicCon /// Sofia (BUL)
2017 Tropica Festival /// Bali (IND)
2017 Boogie Down Bristol /// Bristol (UK)
2017 Bring the Paint /// Leichester (UK)
2016 Street Dealin' /// Jakarta (IDN)
2016 Burn Battle School /// Krakow (PL)
2016 V1 Festival /// St.Petersburg (RU)
2016 Meeting of Styles /// Budapest (HUN)
2016 UrbanHeart /// Basel (CH)
2016/17 Splash Festival /// Ferropolis (GER)
2016 Step in the Arena /// Eindhoven (NL)
2015 Meeting of Styles /// Antwerp (BEL)
2015 Roskilde Festival /// Roskilde (DK)
2015 Streetfire Festival /// Moscow (RU)
2015 ONO`U Tahiti Graffiti Festival /// Papetè (Tahiti)
2014 Meeting of Styles /// Milano (IT)
© Andre Morgner 2019 / All Rights reserved. #boogieisyourfriend